Hey, Readergirlz!
Who's read
After
? *----Link has awesome video giving the whole story behind After, and how the book came about for author
Amy Efaw
. It's not an easy book to read, because it deals with a very tough issue. But it's well-done and definitely worthwhile!
I got to go hear Amy read and meet her last Thursday. Holly Cupala and Jackie Parker joined me, as did the awesome librarian Rachel McDonald, and we all had a blast talking to Kari Yadro, the bookseller who hosted the event. There's a photo of all of us with Amy somewhere, but my own camera was out of batteries . . .so just use your imaginations! Two authors, two librarians, a bookseller, and a guest-of-honor author. My idea of a great group!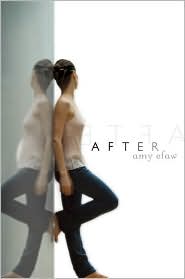 After deals with a teen who has to come to terms with her own denial and admit that she's hidden a pregnancy (even from herself) and given birth. After the baby's born? She puts it in a dumpster.
Holly took a video of Amy reading from the first chapter!
I was amazed when Amy said that this same thing happens once a day in our country, and that most of the women who throw away babies are good students, achievers, people with resources. They're in extreme denial for deeply emotional reasons.
Amy did tons of research and has actually become one of the most knowledgeable people to talk to about this phenomenon. The statistics are hard to keep, because a lot of cases are never found out. Reading After is a great place to start if you're interested in the psychology behind a decision that seems so irrational and unbelievable.
I'm so impressed with Amy for tackling such a difficult subject. It was great to hear her read and to learn more about this problem. You can learn lots about it, too, at her web site!
I did manage to get my classic Liz-with-Author photo!:
See you next time!