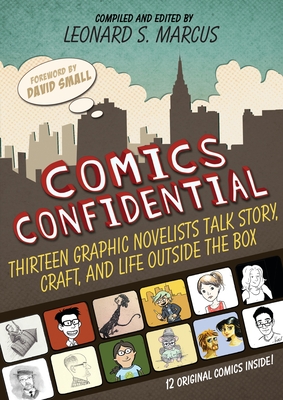 I've only popped open this exquisite work and already have quotes to share:
"Art-making at its best is a confrontation with the mysterious and the irrational. If we listen to the people concerned mainly with classification or marketing, we end up not making honest and true works of art, but only
product
, rubber-stamped and made to fit into a prefab box that might as well be a casket." David Small
"Without quite realizing it, these indie artists and writers had invented a new art form--a new kind of book for which people at first did not have a name. By the early 2000s, the books were everywhere." Leonard S. Marcus
Whether you call them graphic novels or comics, the current creators are a force in the publishing industry.
Comics Confidential, Thirteen Graphic Novelists Talk Story, Craft, and Life Outside the Box
, compiled and edited by Leonard S. Marcus, is a documentary treasure of the creative contribution from thirteen viewpoints. Each interview includes a comic and sketches or manuscript pages about "the city." Those nest among personal stories of out of the box artists, including Harry Bliss, Hope Larson, and Sara Varon.
Thank you, Leonard, for stopping and sharing so beautifully the backstories, practices, and thoughts of this group. And thanks, Candlewick Press!
Comics Confidential
Thirteen graphic Novelists Talk Story, Craft, and Life Outside the Box
compiled and edited by Leonard S. Marcus
Candlewick Press, 2016
~Lorie Ann Grover