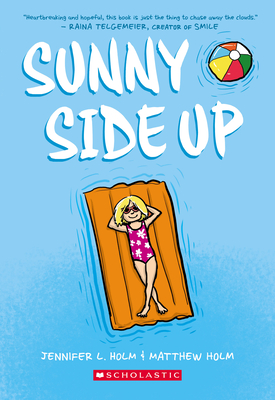 Jennifer and Matthew Holm have teamed up again, this time to write a semi-autobiographical graphic novel,
Sunny Side Up
. Illustrated beautifully by cartoonist Lark Pien, the reader is shot back to August, 1976, West Palm Beach, Florida. Gramps and Sunny reunite outside the Eastern Airlines terminal and their journey begins. Sunny is introduced to Pine Palms Retirement Community; life with seniors; Buzz, the groundskeeper's son; and comics. Flashbacks fill in the backstory of what precipitated Sunny's visit down south. Substance abuse is carefully; yet, honestly handled.
The understanding of each other that the characters attain, the give-and-take, and the discovery of the new is beautiful in this treasure. I would watch for this work on the awards lists. Enjoy the book, readergirlz, and then lend it to your little sister.
Sunny Side Up
by Jennifer L. Holm and Matthew Holm
illustrated by Lark Pien
Graphix, Scholastic, 2015