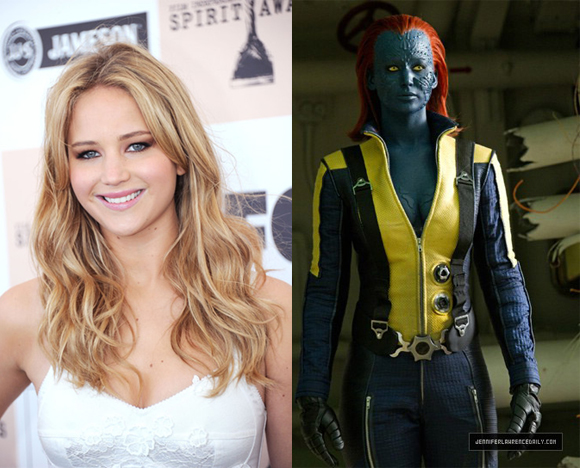 In a recent interview with Seventeen, Jennifer Lawrence had this to say about being healthy in mind and body:
Seventeen:
You've said girls should embrace their curves. Why did you think it important to make that statement?
Jennifer Lawrence:
When I was playing Mystique in X-Men, I remember thinking, If I'm going to be naked in paint in front of the entire world, I'm going to look like a woman. I'm going to have curves and have boobs and have a butt. Because girls are going to look at that, and if I look like a scarecrow, they are going to think, Oh, that's normal. It's not normal. I'm just so sick of these young girls with diets. I remember when I was 13 and it was cool to pretend to have an eating disorder because there were rumors that Lindsay Lohan and Nicole Richie were anorexic. I thought it was crazy. I went home and told my mom, "Nobody's eating bread--I just had to finish everyone's burgers." I think it's really important for girls to have people to look up to and feel good about themselves.
I agree with Jennifer: It is very important for kids and teens to have good role models, and to have healthy eating habits. Encourage your friends and family members to eat right, and lead by example. Try to eat fresh food in every color of the rainbow, every day. It's easy and fun to do. Hint: Incorporate fruits and veggies into your meals and snacks!
I'm typing this as I eat my dinner -- farfalle (bowtie) pasta and brown rice mixed with tomato sauce and green peas. Yum!