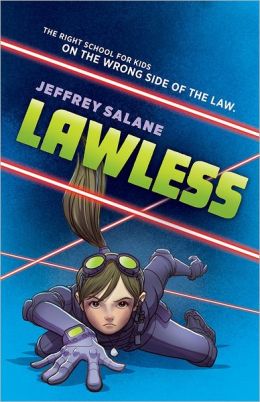 Yes, the protag is 12, but I have to post this at rgz! Jeffrey Salane's
Lawless
is so fast-paced and fun, you will race from the beginning to the end before your sibling has a chance to pick up the book.
M Freeman is an only child, a homeschooled daughter of thieves. Accepted into the boarding school, Lawless, she finds her way through the maze of the institution, first friendships, and her own past. The discoveries fly faster than M scrambling over the roof of a subway train.
Here's an excerpt:
"Ms. Freeman, I'm going to go off-record for a moment, which is why I've excused Ms. Smith from this room. If you repeat anything I say from this moment on, I will deny everything. I knew your father. I knew him very well. You are your father's daughter, and I hope you'll understand in time why I'm telling you this. Forget the Lawless School. Forget everything that just happened. Walk out that door, do not talk to Ms. Smith, get in your car and go home. Do not open that envelope I've handed you. Burn it. And scatter the ashes."
Watch for this page turner, read
Lawless
, and find you are waiting with me for Book 2!
Lawless
by Jeffrey Salane
Scholastic Press, April 1, 2013