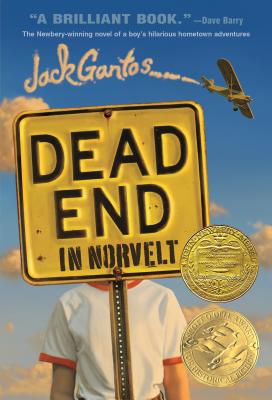 We don't often feature books with central male protags, but this one from Jack Gantos also has a fierce senior female, Miss Volker, in the spotlight. And we don't regularly recommend middle grade novels. Yet, why not read outside YA? Isn't it the story that matters, not the age of the main character? Did you read,
Dead End in Norvelt
? You don't want to miss it. I was literally laughing out loud as I relished each page. I had to read passages to my family which in turn got us all giggling.
Blending truth and fiction, Jack Gantos writes of Jackie who spends the summer helping Miss Volker write the town's obituaries. The original citizens are passing quickly from the scene, even a bit suspiciously. The work brims with memorable characters living and dying in 1962.
The book won the Newbery in 2012 and the Scott O'Dell for Historical Fiction. Here are a few reviews:
A bit of autobiography works its way into all of Gantos's work, but he one-ups himself in this wildly entertaining meld of truth and fiction by naming the main character . . . Jackie Gantos." —
Publishers Weekly
, starred review
"A fast-paced and witty read." —
School Library Journal
"A more quietly (but still absurdly) funny and insightful account of a kid's growth, kin to Gantos's Jack stories, that will stealthily hook even resistant readers into the lure of history." —
BCCB
"This winning novel, both humorous and heartwarming, takes place during the summer of 1962, when narrator Jack Gantos turns 12 and spends most of his days grounded. Jack's main 'get out of jail free card,' and one of the novel's most charming characters, is Miss Volker. The blossoming of their friendship coincides with the blooming of Jack's character." —Shelf Awareness Pro
* "There's more than laugh-out-loud gothic comedy here. This is a richly layered semi-autobiographical tale, an ode to a time and place, to history and the power of reading." —
The Horn Book
, starred review
"Gantos, as always, deliver
rs bushels of food for thought and plenty of outright guffaws." —
Booklist
* "An exhilarating summer marked by death, gore and fire sparks deep thoughts in a small-town lad not uncoincidentally named 'Jack Gantos.' The gore is all Jack's, which to his continuing embarrassment 'would spray out of my nose holes like dragon flames' whenever anything exciting or upsetting happens. And that would be on every other page, seemingly. . . . Characteristically provocative gothic comedy, with sublime undertones." —
Kirkus Reviews
, starred review
Find this funny, poignant book, rgz, and get ready to laugh.
Dead End in Norvelt
By Jack Gantos
Square Fish, paperback